The Joint Research Center for Human Retrovirus Infection, Kumamoto and Kagoshima Universities, is a leading research facility for oncoviruses, HIV/AIDS
The Joint Research Center for Human Retrovirus Infection, Kumamoto and Kagoshima Universities, is a leading research facility for oncoviruses, HIV/AIDS
Research
The Joint Research Center for Human Retrovirus Infection, Kumamoto and Kagoshima Universities, is a leading research facility for oncoviruses, HIV/AIDS, and emerging viruses such as the pandemic Coronavirus Disease (COVID-19). Our laboratory was launched in October 2021. We aim to conduct on research for delivering new therapeutic drugs to patients through the elucidation of the pathophysiology of leukemia/lymphoma associated with human T-cell leukemia virus type 1 (HTLV-1). HTLV-1 has a historical background that was neglected until recently. However, it is estimated that there are more than 10 million infected people in the world. Viruses are anthropologically considered to be as important to human evolution as endogenous retroviruses, but it is nothing more than a threat to us currently facing a pandemic like COVID-19. HTLV-1, a retrovirus of the same family as HIV, is also a life-threatening virus. The virus causes ATL in a few percent of HTLV-1 carriers after long-term incubation. In addition to ATL, it causes neurological diseases such as HTLV-1-related myelopathy (HAM/TSP). These diseases are intractable and there is no effective treatment method, and no method for preventing the onset has been established. Therefore, elucidation of the onset mechanism and molecular pathology is an urgent issue. Kagoshima prefecture is located in the southwest Japan, and has many HTLV-1 carriers, ATL, and HAM/TSP patients. Overcoming these diseases is the mission of our facility. To elucidate the molecular mechanisms of ATL development, we have isolated ATL-associated genes by genome analysis and comprehensive gene expression analysis, and proceeded with the identification of new diagnostic and therapeutic targets (Blood 2008, Leukemia 2012, Nature Communications 2014, Haematologica 2020 etc). Pathological research in ATL is still in the middle of the roads. We would like to further identify and analyze new causative genes and molecular pathways related to the onset and pathophysiology of ATL, which will lead to clinical application. If you are interested in our research, please feel free to contact us.
Main publication
Nakahata S, et al. Clinical significance of soluble CADM1 as a novel marker for adult T-cell leukemia/lymphoma. Haematologica. Feb 13:haematol.2019.234096 (2020).
Nakahata S, et al. Loss of NDRG2 expression activates PI3K-AKT signalling via PTEN phosphorylation in ATLL and other cancers. Nat Commun. 2014;5:3393 (2014).
Nakahata S, et al. Clinical significance of CADM1/TSLC1/IgSF4 expression in adult T-cell leukemia/lymphoma. Leukemia.26:1238-1246 (2012).
Hidaka T, Nakahata S et al. Down-regulation of TCF8 is involved in the leukemogenes is of adult T-cell leukemia/lymphoma. Blood. 112:383-393 (2008).
Members
Professor: Shingo Nakahata, PhD
Technician: Satomi Harazono
Secretary: Mika Tomitaka
PhD student: Daniel Enriquez, MD
Undergraduate student: Shuhei Fujii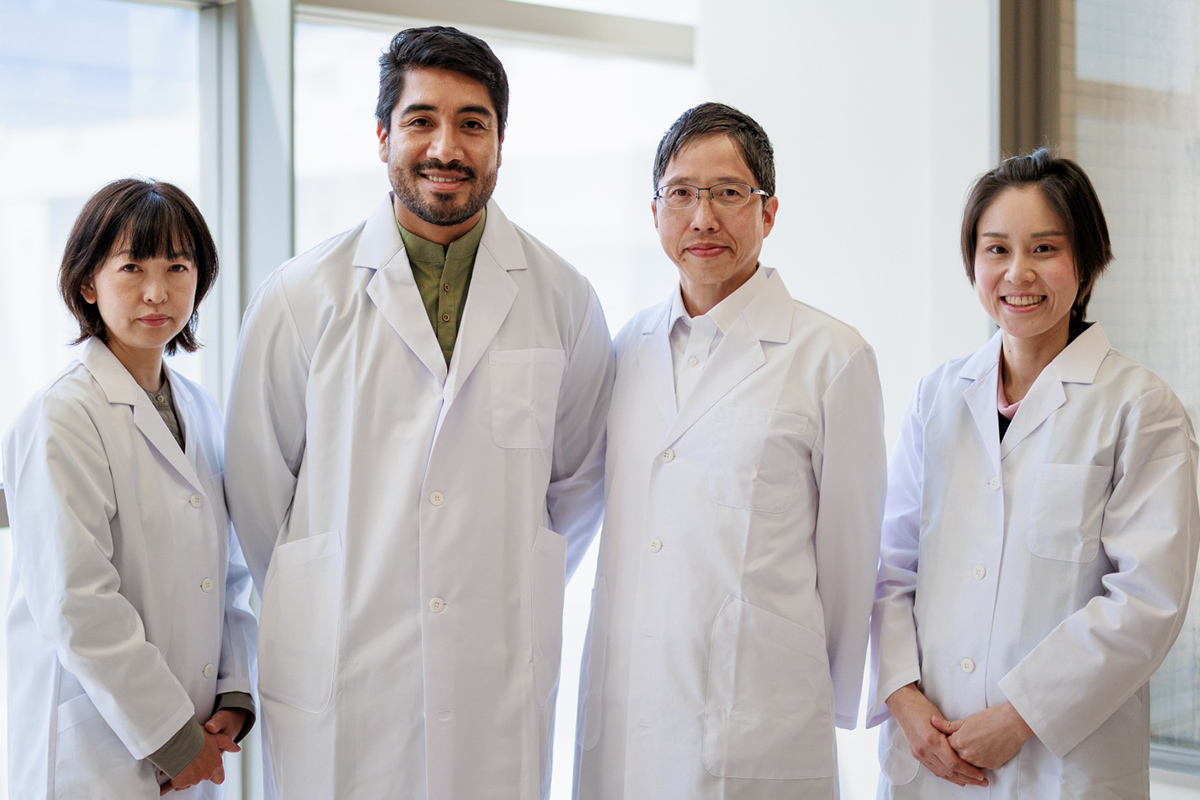 Contact
KAGOSHIMA UNIVERSITY Division of HTLV-1/ATL Carcinogenesis and Therapeutics, Joint Research Center for Human Retrovirus Infection
TEL. +81-99-275-6657
E-mail.snakahata[at]kufm.kagoshima-u.ac.jp
Please replace [at] with @ when emailing.